Circular Saw Blades



High Speed Steel Cold Saw Blades
• M2 HSS - Steam Tempered and Bright Finish(for coating applications) 63/65 HRc for ferrous cutting.
• M35 Cobalt HSS - Steam Tempered and Bright Finish - 64/66 HRc for cutting more difficult metals.
• Special Coated Blades - M35 64/66 HRc precision grind for high production applications.

Non-Ferrous High Speed Steel Blades
• M2 HSS - Bright Finish - Low hardness for use on nonferrous applications at high RPM.

Segmental Saw Blades
• Segmental saw blades consist of a support disc (Chrome Vanadium Steel)
• M2 High Speed segments heat treated to a 63/65 hardness Rc.
• Perfect uniformity of hardness guaranteeing maximu efficiency and exceptional finish and tool life.

Friction Saw Blades
• Friction saw blades made of Chrome- Vanadium and High Carbon / High Chrome Steel
• Grade of steel which offers high resistance to wear and high impact strenght.
• Tooth hardness of 40 to 50 HRc and core hardness of 30 to 35 HRc

COLD SAW BLADES FOR THE FOLLOWING MACHINES AVAILABLE;
HABERLE™,BROBO™,PEDRAZZOLI™,DAKE™,SOCO™,TOMET™,PHOENIX™,
MAXISAW™,DORINGER™,AMER BROWN™,INDUSTRY SAW™,MEC BROWN™,SUPER BROWN SPECIAL™,
SUPER BROWN 350™, SCOTCHMAN™,EISELE™,WILTON™,BROWN™,IBP™,
KALAMAZOO™,FONG HO™,BAILEIGH™,THOMAS™,HYDMECH™,KMT™,STARTRITE™,
MACC™,ENCO™,BEHRINGER™,TRENNJAEGER™,KALTENBACH™,KASTO™,YLM™,
DUTCH™,BEWO™,MARATHON™,ACRA™, PARTS,SALES, & SERVICE....


TIN COATED COLD SAW BLADES
TITANIUM COATED CIRCULAR COLD SAW BLADES FOR DIFFICULT CUTTING OPERATIONS
TITANIUM COATING IS A TITANIUM NITRIDE COATING ADDING A VERY HARD 2-3MM THICK
LOW FRICTION COAT ON THE SURFACE OF THE BLADE. USING A TIN COATED BLADE, THE
BLADE LIFE CAN BE INCREASED BY 100 TO 300% DEPENDING ON THE CUTTING APPLICATION.
THE BEST RESULTS IS ACHIEVED FOR PRODUCTION CUTTING ON STABLE SEMI AUTO & AUTOMATIC
COLD SAW MACHINES AND THE FEED AND SPEED RATES MUST BE INCREASED BY 50 TO 100%. TIN COATING REDUCE MICRO WELDING AND STICKING OF CHIPS TO SAW BLADE.
TIN COATED BLADE IS GOLD IN COLOR. GIVE US A CALL FOR A QUOTATION ON
TITANIUM NITRIDE COATED COLD SAW BLADES.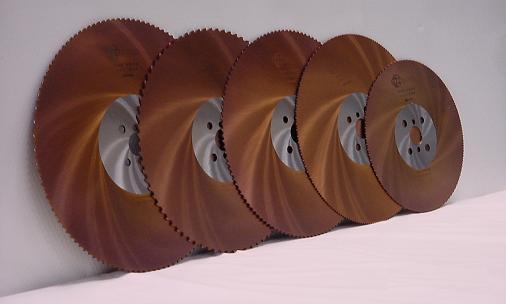 TiAIN/ALTIN Coated Coldsaw Blades
Carbide Tipped, Cermet Tipped,
Throw Away Saw Blades a smart
choice for cutting tube, pipe, and
solid ferrous materials in
flying cutoff, single and multi-head
sawing, and re-cutting applications.

Saw blades for the following makes:
Tsune, Sinico, Soco, Nishijimax,
Kasto, Exact-Cut, Everising, Endo,
Delta, Daito, Bewo, Behringer-Eisele,
Amada




Carbide Tipped Circular Saw Blades

Non-Ferrous Cutting Saws
For cutting non-ferrous metals,
cut sheets, extrusions, light solids
of aluminum, cooper, and brass.
Blade sizes range from 3-7/8" to 30" Diameter
250mm to 550mm Diameter
Blades for Metlsaw plate saws available.

Panel Saws
Designed for use on panel saws for cutting
MDF, particle board, laminates, and bonded
materials. Blade sizes range from
300mm to 670mm Diameter for use on Mayer,
Scheer, Giben, Homag, SCM, Selco, Schelling,
Holzma, Gabbiani, Altendorf, Holzher Panel Saws

Truss & Component Saws
Truss blades are manufactured with a thicker
plate for smoother and straighter cuts every
time. Blade sizes range from 16" to 32" Diameter
350mm to 450mm Diameter for use on Mitek,
Timber Mill, Clary, Alpine Linear, Idaco, Auto-Omni,
Koskovich, Monet, Mangotech Truss Saws

Mitre & Double Mitre Saws
Mitre saws are designed for mitre saw machines
to cut molding or picture frame material. Saws
with CTC(California Triple Chip) design are made
to cut any wood or light metal without changing
blades for different materials. Blade sizes range
from 8" to 15" Diameter
275mm to 350mm Diameter




PROVIDING THE HIGHEST QUALITY CNC COLD SAW BLADE SHARPENING SERVICE.
FREE PICK UP/DELIVERY SERVICE FOR LOS ANGELES, SAN FERNANDO, RIVERSIDE & ORANGE COUNTY
QUICK TURN AROUND ON SAW BLADES SHIPPED TO US FOR SHARPENING.

DISCOUNTS AVAILABLE ON COLD SAW BLADES
BLADES SHIPPED TO US FOR SHARPENING SERVICE.

CIRCULAR SAW BLADE INFORMATION REQUEST FORM
Copyright Industry Saw & Machinery Sales. All Rights Reserved.
Information and prices on this website are subject to change without notice.
Products and Logos in this website are trademarks or registered trademarks of their respective companies or mark holders.
Industry Saw & Machinery Sales - 866-685-7297 - Sales@IndustrySaw.com
- 2023
Website powered by Network Solutions®