FMB DIRECT DRIVE BAND SAWS
FMB MITRE BANDSAWS COMBINE THE ADVANTAGES OF A CIRCULAR COLD SAW WITH THE
SPEED OF AN ABRASIVE SAW AND THE CAPACITY OF A TRADITIONAL BANDSAW. DUE TO
THE CUTTING ACCURACY AND SQUARENESS, LARGE CAPACITY, AND PIVOTING SAW HEAD,
FMB MITRE BANDSAWS ARE IDEAL FOR A WIDE RANGE OF IRON, STEEL FAB AND MACHINE SHOPS.
| | |
| --- | --- |
| FMB TRITON BAND SAW | FMB CENTAURO BAND SAW |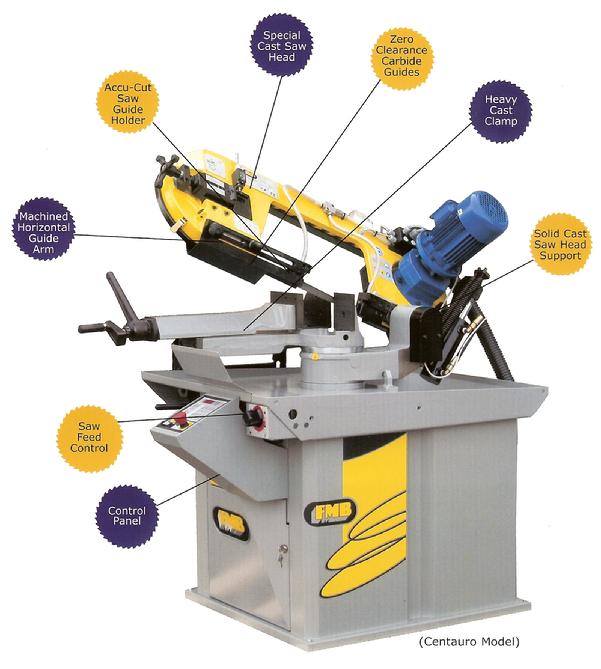 FMB CENTAURO MITRE SERIES
PEGASUS HORIZONTAL DIRECT DRIVE BAND SAW
FMB PRO DOUBLE MITRE SERIES BAND SAWS
| | |
| --- | --- |
| FMB CALIPSO BAND SAW | FMB OMEGA SEMI AUTOMATIC BAND SAW |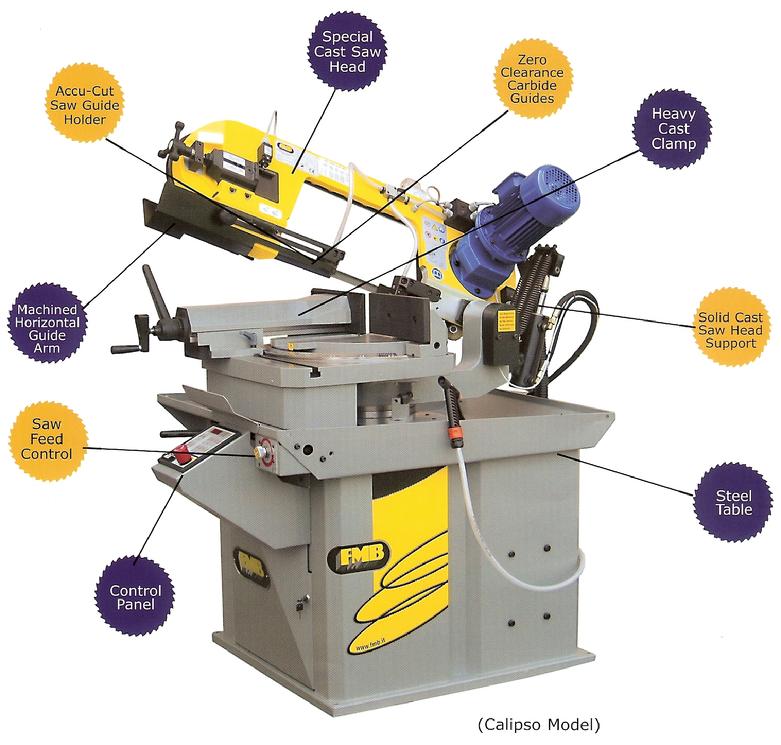 FMB PRO-DM CALIPSO MODEL
FMB ORION G MODEL

FMB ORION G BAND SAW

FMB ORION G BAND SAW
WITH HYDRAULIC CUTTING CONTROL
2 SPEED "G" MODEL ALLOWS FOR EITHER
PULL DOWN FOR FAST SAWING AND OPERATION
LIGHT JOBS WITH THE ADDED CONVENIENCE OF HYDRAULIC DOWNFEED
FOR HEAVY TUBES, PROFILES AND SOLID STOCK. MACHINE SHUTS OFF
AT END OF CUT.


9" ROUND & SQUARE @ 90 DEGREES
9" X 6" RECTANGLE @ 45 DEGREES(RIGHT)
4" ROUND & SQUARE @ 45 DEGREES(RIGHT)
4" X 4" RECTANGLE @ 60 DEGREES(RIGHT)
5-1/8" ROUND @ 45 DEGREES(LEFT)
4" SQUARE @ 45 DEGREES(LEFT)
3-1/8" X 5-1/8" RECTANGLE @ 45 DEGREE(LEFT)

STANDARD EQUIPMENT INCLUDED WITH ORION G BAND SAW

*PRECISION MACHINED CAST SAW HEAD
*STRONG SAW PIVOT
*PRECISION MACHINED HORIZONTAL BLADE GUIDE ARM
*ACCU-CUT BLADE GUIDE HOLDER
*CARBIDE BLADE GUIDES WITH SET TOLERANCE OF 0.0007"
*TOP AND SIDE ROLLERS GUIDES FOR SUPPORT INTO THE CARBIDE GUIDE
*0-60 DEGREE MITRE SAW HEAD(RIGHT) AND 0-45(LEFT) WITH BUILT-IN PRECISION PROTRACTOR
*POSITIVE PRESET STOPS FOR 45 AND 60 DEGREE CUTS
*LARGE STEEL WORK TABLE WITH REMOVABLE VISE AND T-SLOTS
*1.5 HP SAW MOTOR POWERS FMB STRAIGHT LINE GEAR DRIVE
*2-BLADE SPEEDS 100 AND 200 FPM
*HEAVY DUTY CLAMPING VISE WITH QUICK CLAMP ACTION
*LARGE CAST SAW HEAD ROTATIONAL SUPPORT
*MACHINE BASE WITH BUILT-IN OPERATING CONTROLS AND LOCKING CABINET
*RECIRCULATING FLOOD COOLANT SYSTEM
*24" LENGHT STOP
*INFEED ROLLER SUPPORT
*ONE FMB M42 COBALT PRECISION SAW BLADE







FMB BANDSAW INFORMATION REQUEST FORM
Copyright Industry Saw & Machinery Sales. All Rights Reserved.
Information and prices on this website are subject to change without notice.
Products and Logos in this website are trademarks or registered trademarks of their respective companies or mark holders.
Industry Saw & Machinery Sales - 866-685-7297 - Sales@IndustrySaw.com
- 2023
Website powered by Network Solutions®